Manufacturing
Capabilities
Manufacturing Capabilities
Norden Mfg has been fabricating its own products since 2017. Our goal is to manufacture the highest quality farm equipment and then provide support for that equipment far beyond its warrantied period. You can also tap into that manufacturing stream with your own ideas and custom fabrication needs. Here is a list of our equipment so you have some idea of our manufacturing capabilities.
Equipment
– Bystronic 3015 10KW BySmart Fiber Laser 5×10
– Bystronic Xact 160 Press Brake 10'
– Bystronic Xpert 40 Press Brake
– Lissmac SBM 900 Deburring Machine
– Royson 4LC Vibratory Finisher
– Apex Model 1025-DB Sander
– Haas Model DS30Y 5 Axis CNC Lathe with 48″ Bar Feeder
– Okuma MC-V4020 Vertical CNC Machining Center
– DoAll 500DS StructurALL Bandsaw
– Hyd-Mech S-23A Bandsaw
– KMT Saw C 370 A-NC Cold Cut Saw
– Accura Model KB-36 Bandsaw
– (2) Bridgeport vertical milling machines
– (10) OTC Welbee P400 and P500L MIG Welders.
– Yaskawa W2000 welding cell with two 3m rotary positioners.
Finishing:
-Chemical wash
– 12-foot batch powder coating
Software:
– NetSuite ERP
– Delfoi Advanced Planning
– OnShape CAD
Contact Us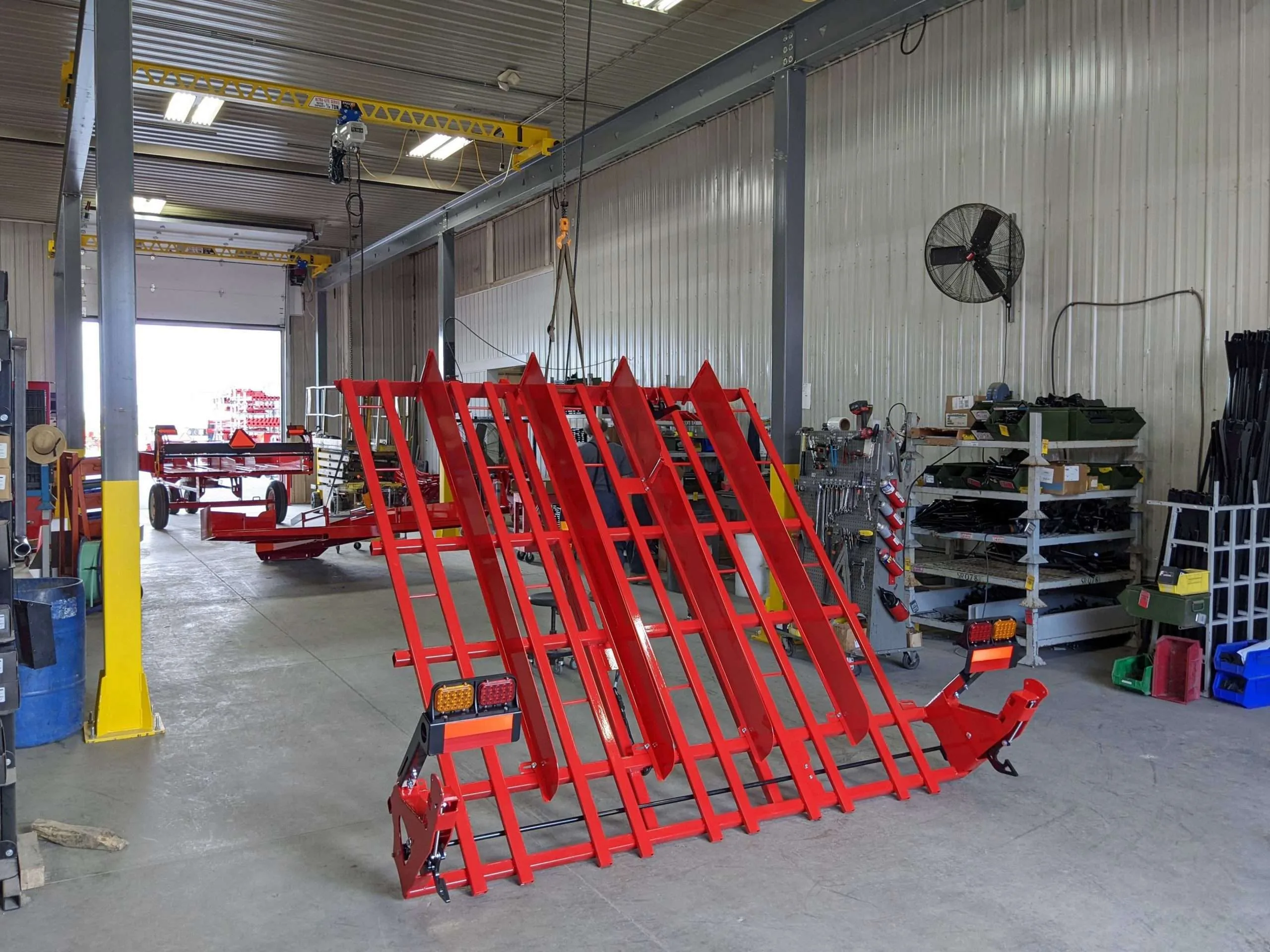 How We Work With You
If you have an idea:
We love new ideas and we love to develop them. We need to be very selective about the ideas that we do develop because we do our best work when we know something about the need that idea will fill. We do have lots of ideas to work through so we will not promise a quick turn around on an idea that has not been developed.
If you have a design:
We can turn a request for custom work around pretty fast. It all depends on what is happening right at that moment but we have a fair amount of capacity both through our machines and through our motivated work force. It is always fastest if you have a DXF or DXG file available. A STEP or PARASOLID are preferable for any lathe work. Of course, if all you have available is a drawing, we will create the part in our CAD system so we can create the files we need for production. Use our manufacturing capabilities to create your product.
If you have a product:
If you have already developed your product, have drawings and know exactly how you want it done, we'd love to put our manufacturing capabilities to work for you. The process of learning how your sausage is made is unique to every product and we want only the highest quality output.
We will ask for whatever files you have. We prefer if you can give us a STEP file along with all of the drawings related to both the pieces and the weldments. The reason the STEP files are so helpful is that our production software is right at home with that file format and we can skip a lot of steps in our system this way. If the STEP file is not perfect, we will use it in our CAD software to create new parts so the final outcome is exactly what you expect.
What you can expect from us:
Respect your intellectual property.

No other customers will have access to your files or parts
Your ideas are yours

High quality parts for you.

If the parts you get from us do not meet your stated tolerances or needs, we will always make it right.

Our products are of high quality and yours will be no less than what we make for ourselves
Our manufacturing capabilities are world class and our workforce is quality minded.

Competitive pricing
Our best effort. We are eager to make the world a better place.