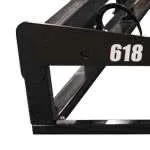 Steel Tube frame
This quality steel frame ensures high strength and durability.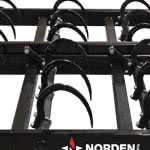 Cast steel bale hooks
Once the group is tight, a single hydraulic cylinder rotates all the hooks simultaneously into the top of the bales to pick up the group. These durable hooks allow for 2 hooks per bale to ensure the bundle is secure while transporting bundles.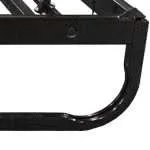 Adjustable Crowd Bar
The Standard Grabber features an adjustable crowd bar that is mounted on the side of the grabber. When approaching a group of bales, the adjustable crowd bar works in combination with the back frame to crowd the bale group together.
Detailed Specs
6 Bales Wide and 3 Bales Long
90" Wide by 96" to 108" Long