Norden Founded By Farmer that Understands Daily Challenges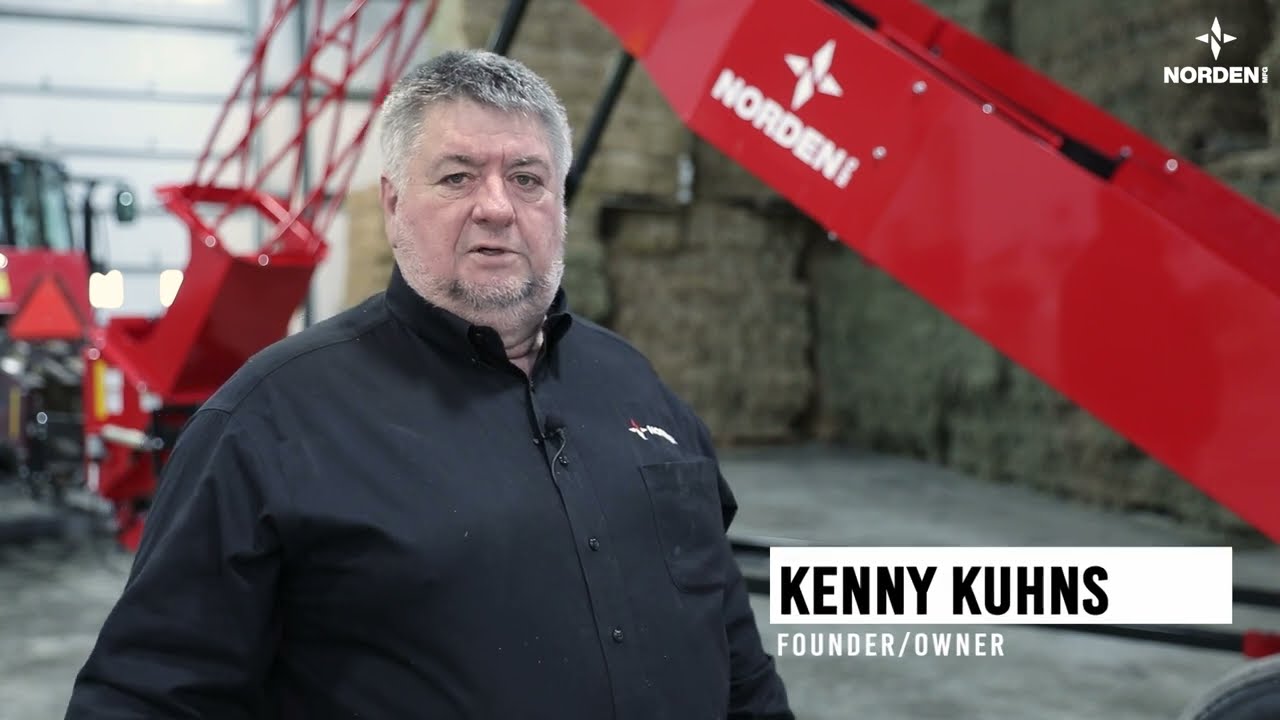 Kenny Kuhns understands the risks and obstacles that farmers confront each day
The agricultural industry is a crucial aspect of society. It provides us with food, fiber, and many other resources that we use in our daily lives. The farmers who work tirelessly to grow crops and raise livestock face numerous challenges, including unpredictable weather conditions, pests, and diseases. To overcome these challenges, they need reliable and efficient equipment that simplifies the process and increases productivity.
This is where Norden Mfg comes in. The company was founded by Kenny Kuhns, who grew up on a dairy farm in Illinois. His experience stacking countless bales of hay onto wagons and into barns gave him the passion to innovate new and improved ways to transport fresh hay to the barn before the rain came. When he moved to Ohio, he noticed that hay farmers needed a more reliable and efficient process for small square baling due to the inconsistent and quick-changing weather. This drove him to find a better system, and through faith and persistence, he and his family developed a design that simplified the entire process and lengthened the lifetime of the equipment.
The result was the Accumulator, a product that revolutionized the hay-baling process and grabbed the attention of farmers worldwide. Today, Norden Mfg continues to be inspired by its history of determination, innovation, and goodwill. The company is motivated by its promise to provide affordable equipment that is simple to run, easy to repair, and built without any planned obsolescence or malfunction.
Norden Mfg understands the risks and obstacles that farmers confront each day. They encounter days where rainfall is inevitable, and the hay is ruined. Norden Mfg's knowledge of these challenges motivates them to continue innovating, designing, and manufacturing more sustainable solutions to solve problems throughout the hay-baling process and the industry as a whole.
The company's values and mission are clear: to improve the lives of their family, farming community, and agricultural industry. By doing so, Norden Mfg is providing farmers with the tools they need to grow crops and raise livestock more efficiently and sustainably. The company's passion for innovation and commitment to its customers make it a leader in the agricultural industry.
In conclusion, Norden Mfg's history and commitment to its values and mission have made it a leader in the agricultural industry. The company's products and innovations have helped farmers worldwide to increase productivity and overcome the challenges they face each day. As the company continues to grow and innovate, we can expect to see even more sustainable solutions to the problems that farmers face. Norden Mfg is a shining example of how passion, determination, and innovation can lead to success and a better future for all.