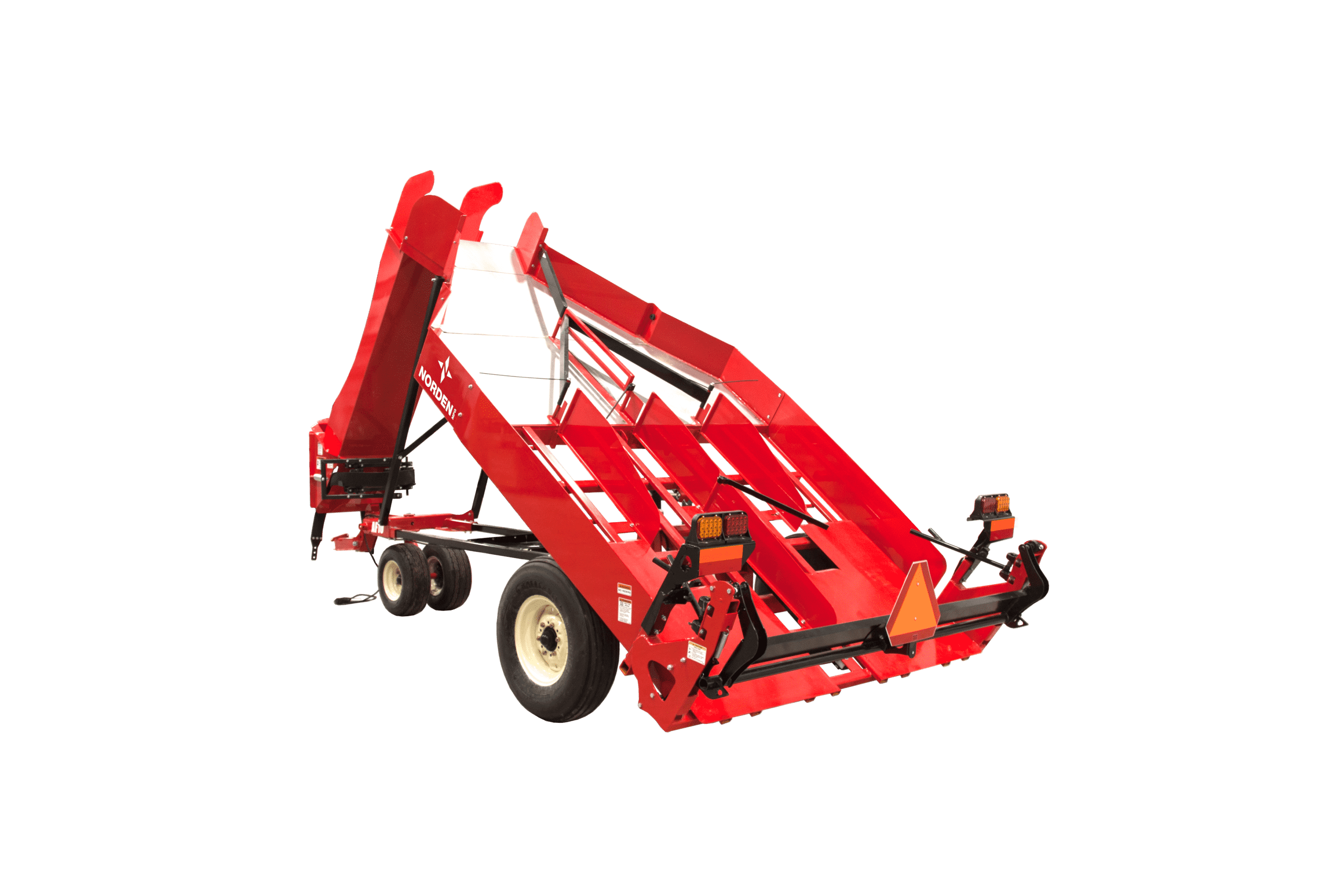 Bale Accumulators
The bale accumulators from Norden are unique in the market. Using no hydraulics or electronics, the innovative design of the Norden Hay Accumulator automatically and mechanically arranges small square bales into groups. When the accumulator is full, the bales are automatically set on the ground in groups. A loader equipped with a Grabber or Tie-Grabber can then pick the bales up and place them onto a wagon or trailer for transportation.
Browse Accumulators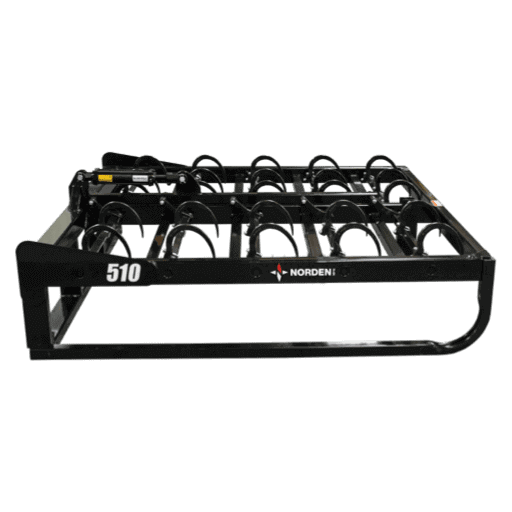 grabbers
The bale Grabber by Norden is mounted onto a loader to move groups of bales. It has hooks arranged, two per bale, to securely hold and move small square bales of hay and straw. This is where the magic of the system happens. The grabber is built from heavy-duty materials to last a lifetime.
Browse Grabbers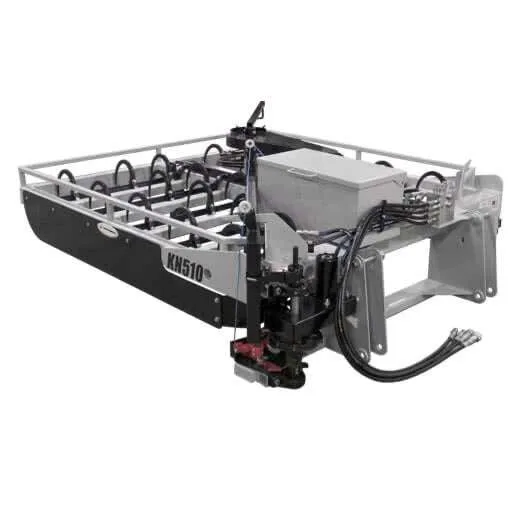 Tie grabbers
The patented and exclusive Tie-Grabber from Norden Mfg places and ties a single strand of twine around the outside of the group of bales. This twine keeps the bales secure and steady both in transport and storage. The Tie-Grabber also enables the handling of bales with a Norden Bale Squeeze for ultimate efficiency.
Browse Tie Grabbers
Bale Squeezes
New to the family, the Norden Mfg Bale Squeeze can move many bales at once. Moving stacks of bale groups tied with the Norden Tie-Grabber, the Bale Squeeze brings the ultimate efficiency to your loader. Designed to waste as little lifting power as possible, the Bale Squeeze from Norden can bring your operation up to the next level.
Browse Bale Squeezes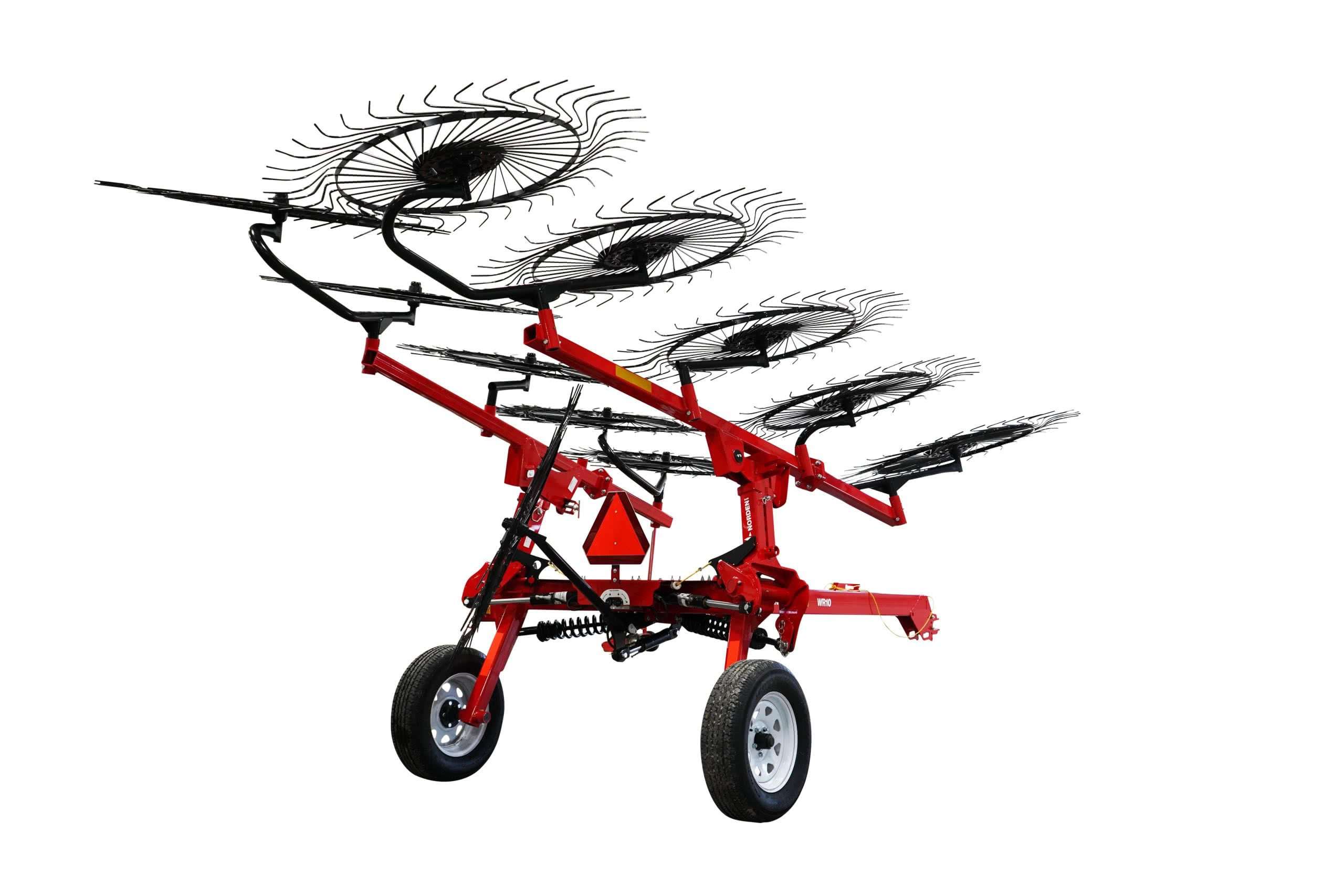 Wheel Rakes
Designed with a wish list in hand, this Wheel Rake from Norden puts it all on the table. Heavy-duty construction, tool-free adjustment, smooth floatation, and simple operation make raking a breeze. This rake is one of the very best that is available. With legendary Norden support, there isn't much to be afraid of with this rake.
Browse Wheel Rakes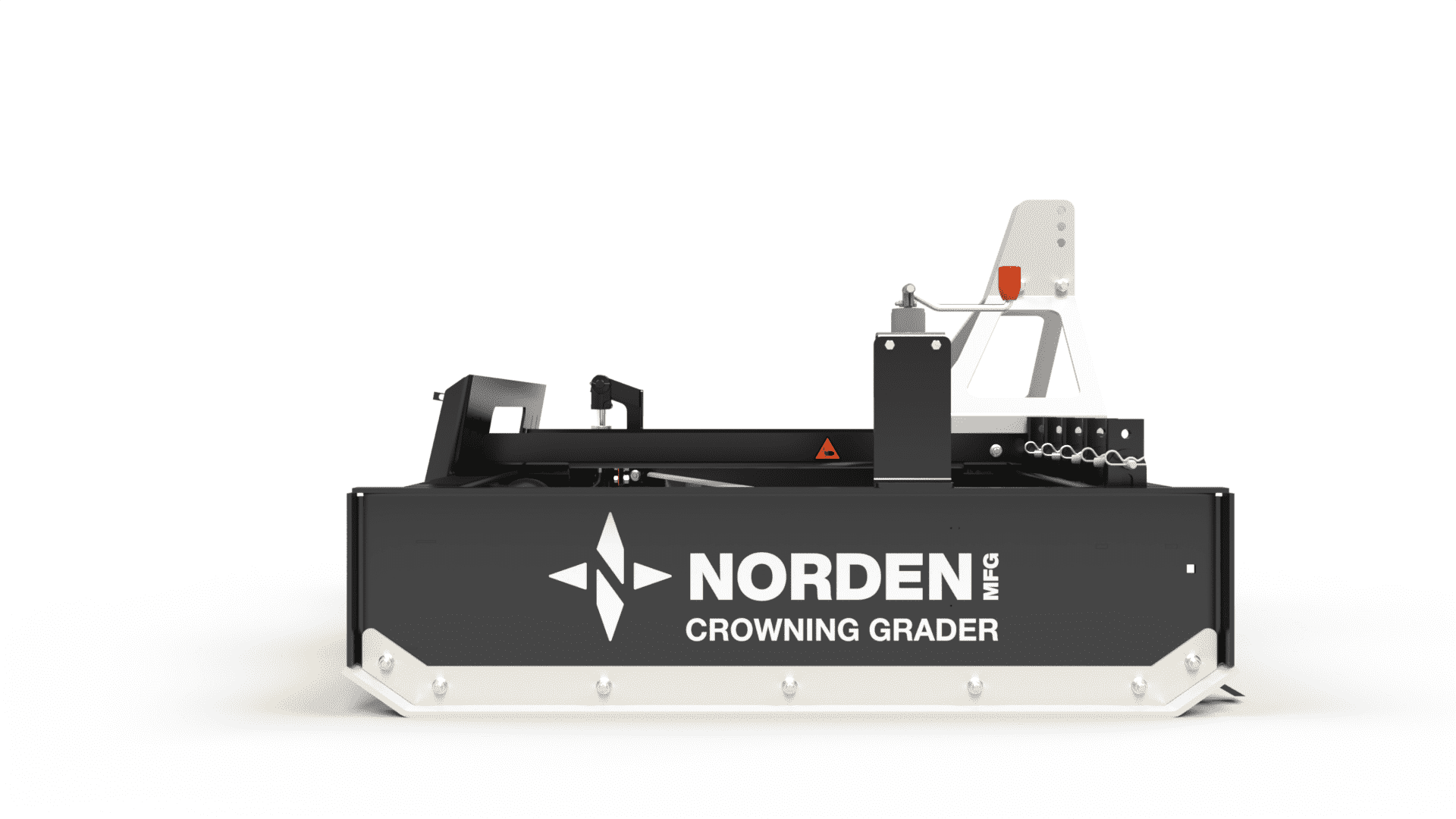 Driveway Grader
Norden Mfg brings a new twist to the grader. The Crowning Driveway Grader from Norden Mfg can create a crown on your driveway and level your parking lot. It can even be used to grade soil for a yard. The tilting blade allows the skid shoes to slide on the ground, creating a consistent blade height that is hydraulically adjustable for adjustment on the fly.
View Crowning Grader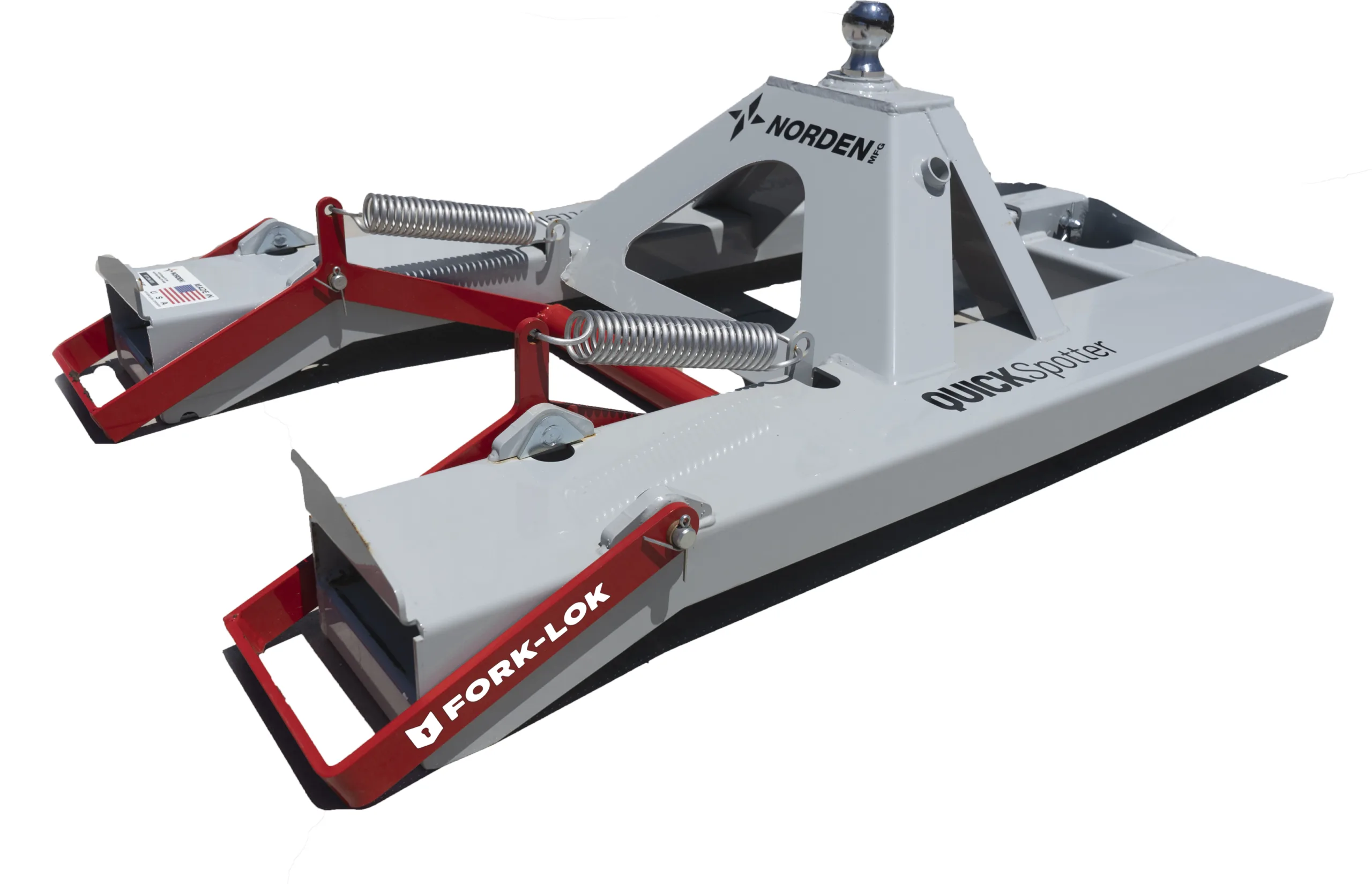 QuickSpotter
The patent pending Fork-Lok (TM) automatically locks the QuickSpotter from Norden Mfg onto the forks of your forklift. The straps come up behind the heels of the fork and hold it securely while you move your trailers from the comfort of the forklift seat.
View Quickspotter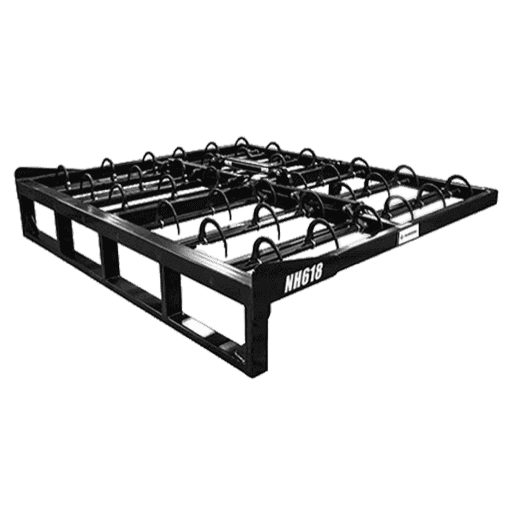 Specialty Grabbers
Norden has been requested by customers to build a Grabber capable of handling a configuration of bales that is not standard to the other equipment available from Norden. Each of these Grabbers brings something unique to the market.
Browse Specialty Grabbers